Surface Area of Triangular Pyramid Calculator
Triangular pyramids are the ones which possess a triangular base and it is also known as Tetrahedron. Below is the illustration of the triangular pyramid.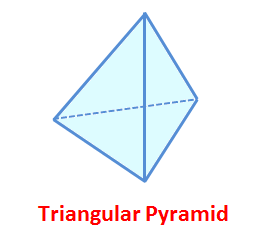 We can calculate it's surface area using the below mentioned formula:

Example:
A triangular pyramid has a base area of 40 mm, it's side length is 15 mm and perimeter is 8. Calculate it's surface area.
Solution:
Given: 
Base Area = 40 mm
Side Length = 15 mm
Perimeter = 8
We know the formula, Surface Area of Triangular Pyramid = Base Area + 1/2 x Perimeter x Side Length
 = 40 + 1/2 x 8 x 15
 = 40 + 60
 = 100 mm
2
Therefore, surface area for the given triangular pyramid = 100 mm
2
Use our below online calculator to find surface area of triangular pyramids. Enter the required values and then click calculate to find the output.
---
Latest Calculator Release
---
Average Acceleration Calculator
Average acceleration is the object's change in speed for a specific given time period. ...
---
When an object falls into the ground due to planet's own gravitational force is known a...
---
Torque is nothing but a rotational force. In other words, the amount of force applied t...
---
Average force can be explained as the amount of force exerted by the body moving at giv...
---
Angular Displacement Calculator
Angular displacement is the angle at which an object moves on a circular path. It is de...
---